Are you new to Olive Branch? Have you been here for years, but looking for a new place to eat? There is a restaurant to meet nearly all tastes in Olive Branch now. Of course, if you've been around for years, you know how much the town has grown and that we started out with just Dodge's and Sonic!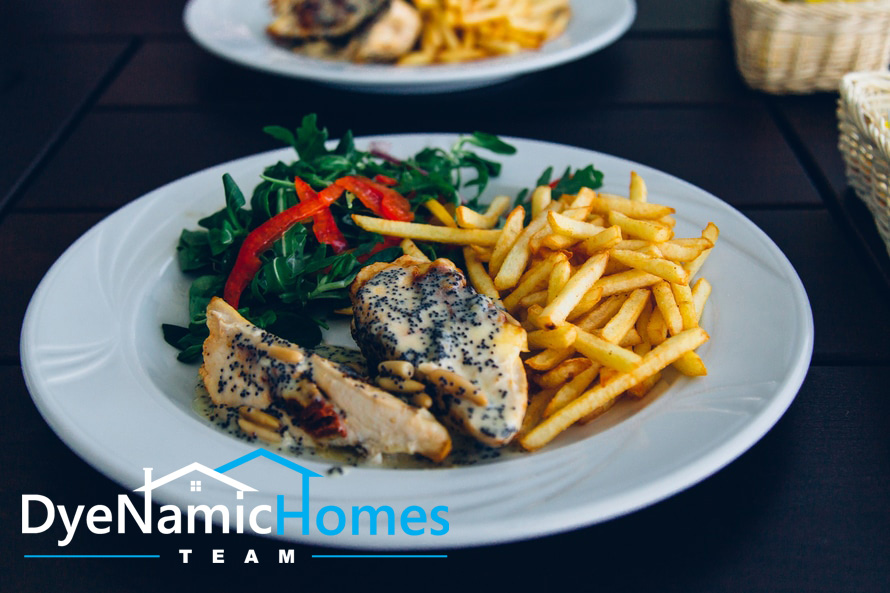 First, decide what you're in the mood for. Is it BBQ? Are the kids begging for Mexican? Is it a Japanese meal you want? Maybe it's date night. Or are you looking for something small and local?
Here is a guide to some of the top picks in Restaurants in Olive Branch, Mississippi!
BBQ – Here in the south, Barbecue is always one of the first choices to take out clients, cater work events, or just pick up after church on Sunday.
Southern Pride BBQ, 7164 Hacks Cross Road, 662-874-5693
Ranks highest in town for their brisket.
Corky's Ribs & BBQ, 6434 Goodman Road, 662-893-3663
Centrally located in Olive Branch near Cinema and newest shopping centers. And, it's voted one of Memphis' best BBQ restaurants.
Old Style Bar-B-Q, 8920 Expressway Drive, 662-895-9932
Convenient to Hwy 78 and locally owned and operated since 1984. They also have a banquet room for 100.
Mexican Cuisine – There is no shortage of choices for Mexican cuisine in Olive Branch. It's always a fun, family-friendly atmosphere!
Rancho Grande, 4860 Bethel Road, 662-893-8650
Offers live music on Thursday nights. Ranks highest in the area for service, food, and atmosphere
2.  Casa Mexicana, 7565 Goodman Road, 662-890-7174
Convenient to Hwy 78. Great for out of town   guests! Great service! Also has very reasonable pricing.
Japanese Cuisine – Whether you want take out Japanese or want to enjoy the Hibachi Grill, there is a place for everyone's Japanese taste.
Osaka, 7164 Hacks Cross, 662-890-9312
This restaurant is separated into 2 parts – one for regular restaurant style dining, – one for Hibachi Grill. EXCITING sushi menu!
Oishi Japanese Express, 8110 Camp Creek Blvd, 662-895-5888
Great option for take out! Fast service, good prices and GENEROUS portions!
Date Night – Leave the kids at home! (Safe and sound with a baby-sitter, of course!)
Tuscany The Italian Steakhouse, 5910 Goodman Road, 662-895-3663
Receives great reviews for steaks, sauces, and bread.
Colton's Steakhouse, 8051 Goodman Road, 662-890-4142
Something on the menu for everyone. Choose from chicken, salad, shrimp, steaks, or burgers. While the restaurant is very family-friendly, it's still a great place for date night!
Small and Local – A selection of everything from seafood to burgers!
Louisiana Bayou, 9261 Old Hwy 178, 662-890-9590
The name says it all! Enjoy some of your southern Cajun favorites – Crawfish bisque, Shrimp Po Boy, Crawfish Etouffee, and more! Quality food with a great atmosphere.
Sidestreet Burgers, 9199 Hwy. 178, 901-596-4749
Great place to stop for lunch! (Only problem is the food is so great that they're super busy!) If you're looking for something a little different, the "Fat Panda" is a must-try. Maybe fish tacos are more your style. The Mahi tacos are a favorite "special of the day." Or, you can play it safe with a fresh burger or club sandwich. Chef Mah really delivers on customer service and meal preparation.
Pinks, 9120-A Pigeon Roost Road. 662-420-7229
Tucked away in Old Towne Olive Branch, Pinks is a charming little coffee shop serving pastries, wraps, desserts, and of course, COFFEE! It has a fun, local atmosphere great for sipping some java while doing work or reading a book.
So, whether you are looking to support small local business, spending fun family time, or enjoying a quiet dinner for two, Olive Branch has grown to accommodate just about any taste or function. 
This list of Restaurants in Olive Branch MS was created using Yelp reviews. The DyeNamic Homes Team nor Dream Maker Realty suggest one restaurant over another and the list is in no particular order. Feel Free to add your favorites by using the comments section. Please do not leave negative comments regarding a restaurant, this list was designed to positively support our local Olive Branch businesses.
And if you happen to be in the Market For Real Estate, you can can see a list of Olive Branch Homes Here!